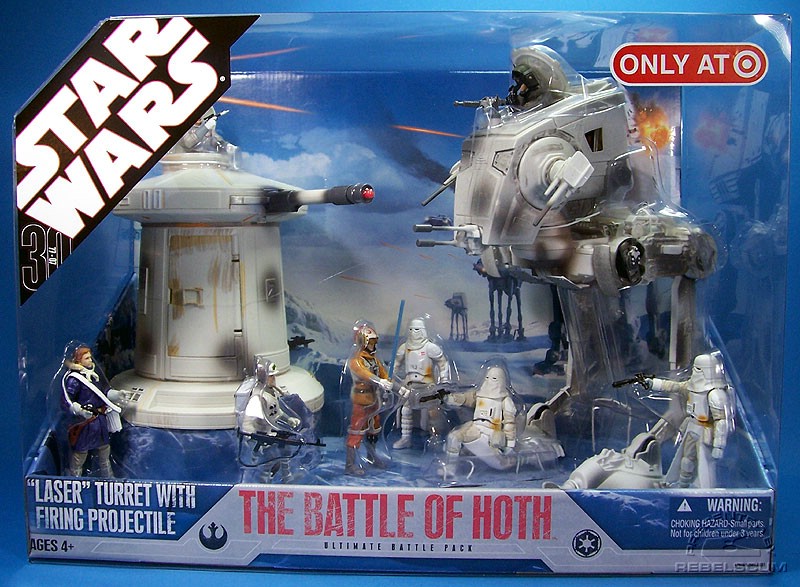 Last Christmas, Hasbro released two pretty awesome Star Wars "Ultimate Battle Packs", exclusive to Target, one from Hoth and one from Endor. Both came jam-packed with figures and vehicles, most of which were significantly different from any previous release. Though they were both expensive, when all that was included was totaled up, the packs were a pretty great deal. Both packs sold out pretty fast, so I was excited to see if they would have any new packs this year of re-release last years model (I only got the Endor one, which I will probably review some other time).
Hasbro did have another "Ultimate Battle Pack" in store for us this year, this time one for G.I. Joe.
At first I wasn't all the interested. I'm not as interested in G.I. Joe, and the $70 asking price, though technically still a fair deal, was way more than I was ever going to pay for it. But after seeing it a few times in person, I decided that the included figures and repaints were pretty cool.
Well, after the Christmas season dissipated these things were still lingering around, and I thought I might have a chance to get it on clearance. I found it for $30 bucks, but decided that if it was ever down to $25 I'd pick it up.
Well, in one of the greatest deals of my collecting career, I managed to find it for $15, thus unleashing...
THE ULTIMATE G.I. JOE BATTLE PACK!!!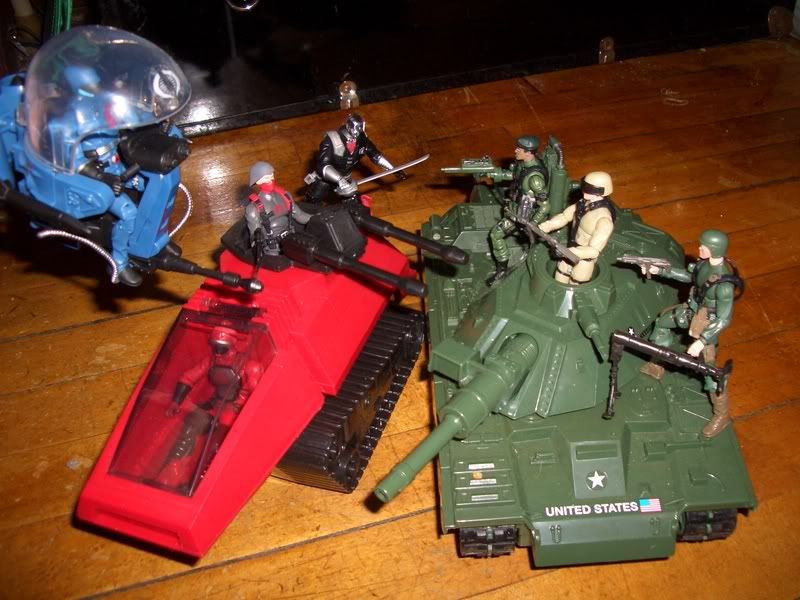 The pack comes with seven figures and three vehicles, and is the perfect starter set for people who are just getting into G.I. Joe, and comes complete with everything you need to wage a full-scale war right out of the box. Let's break down everything that is included...
First there's Short Fuse, the G.I. Joe mortor man. Complete with a unique weapon for the ranks of Joe, Short Fuse is exclusive to this set.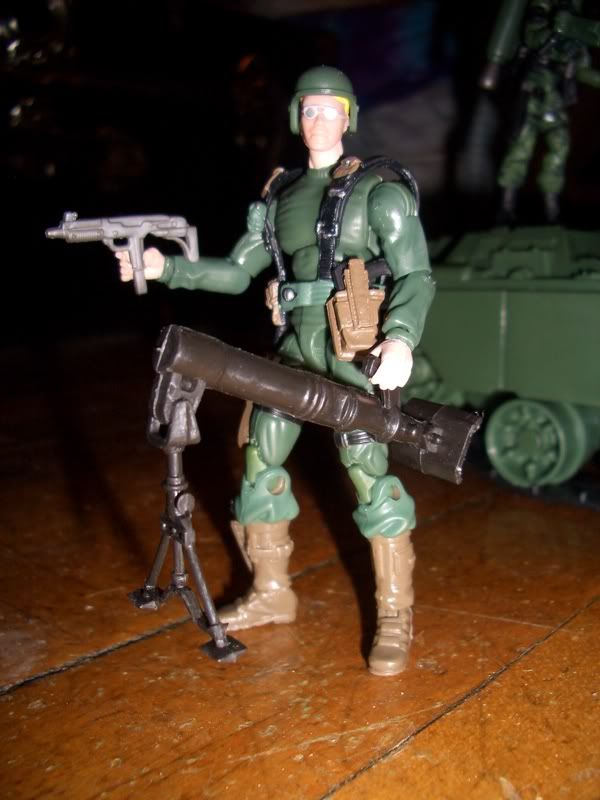 Second is Sgt. Stalker with unique deco and included jetpack. Stalker here is perfect for your wacky science fiction needs and allows you to have a guy you can drop down on your vehicles.
You'll need someone to pilot the included MOBAT tank, and Commander Steeler is a perfect fit. Steeler is also unique to this set and his tan uniform sets him apart from the other Joes.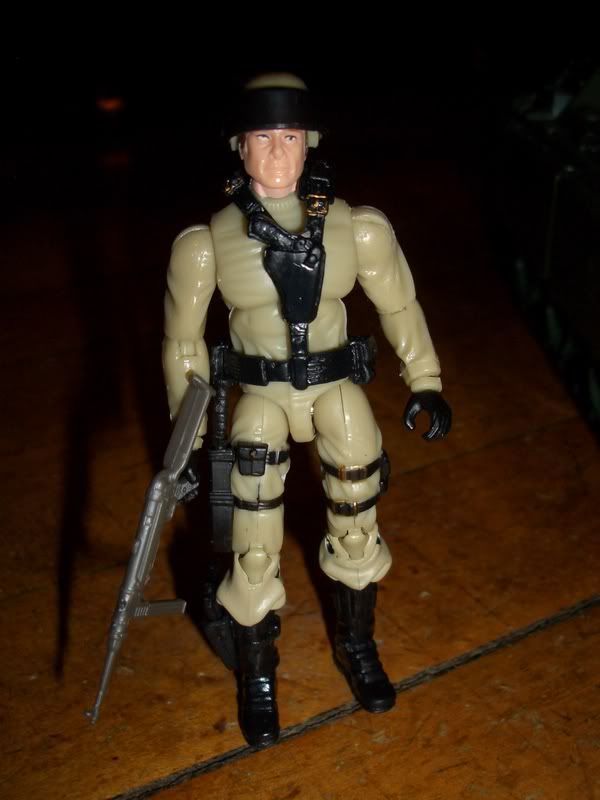 Next Cobra's rank of gerenic troopers is filled out with Cobra Vehicle Gunner, a grunt who comes colored-coded to chill out in the tank turret.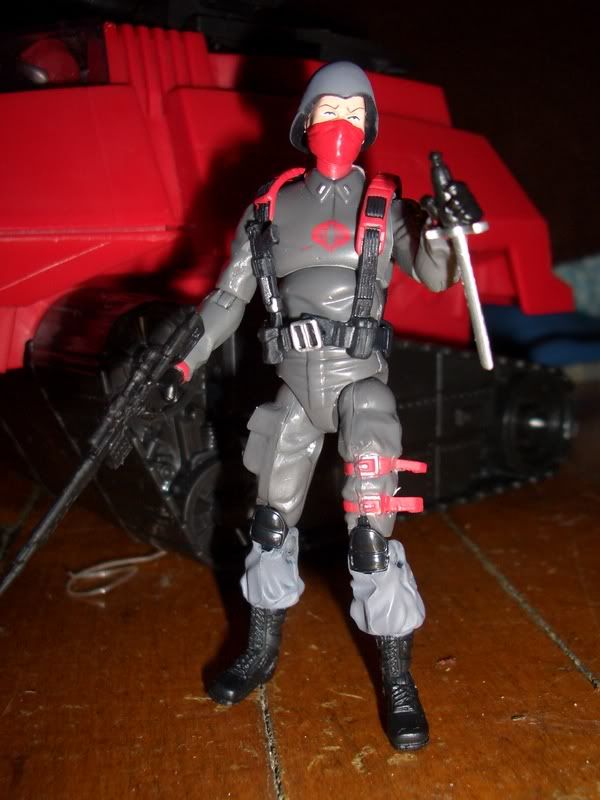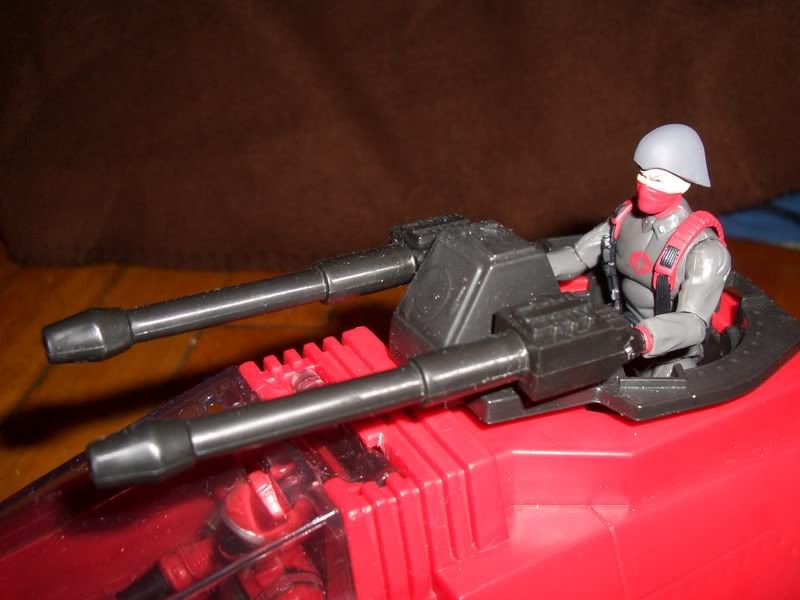 But you need a pilot for your HISS tank, and so the HISS Drivercomes ready to do your bidding.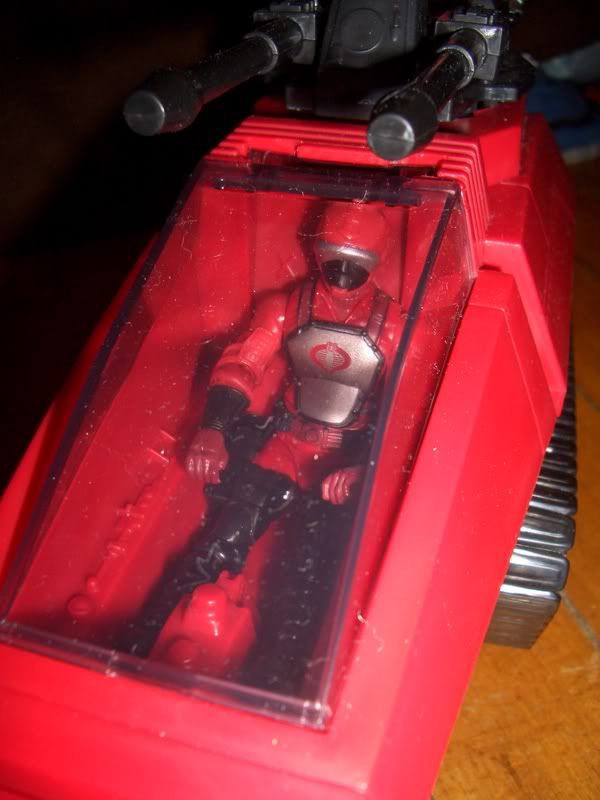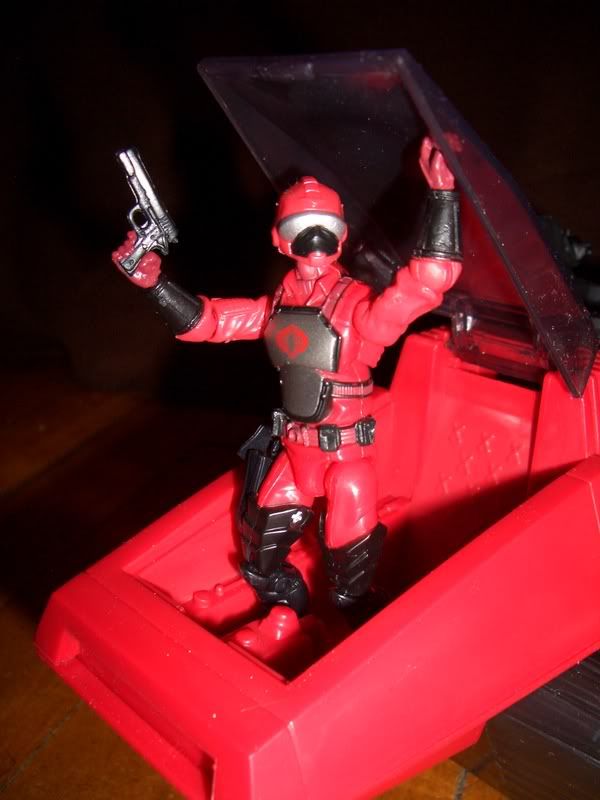 Here we have the Joe's perennial chrome-headed baddie, Destro. Destro is in his "Iron Grenadier" outfit with snappy color-coding to boss his red grunts around.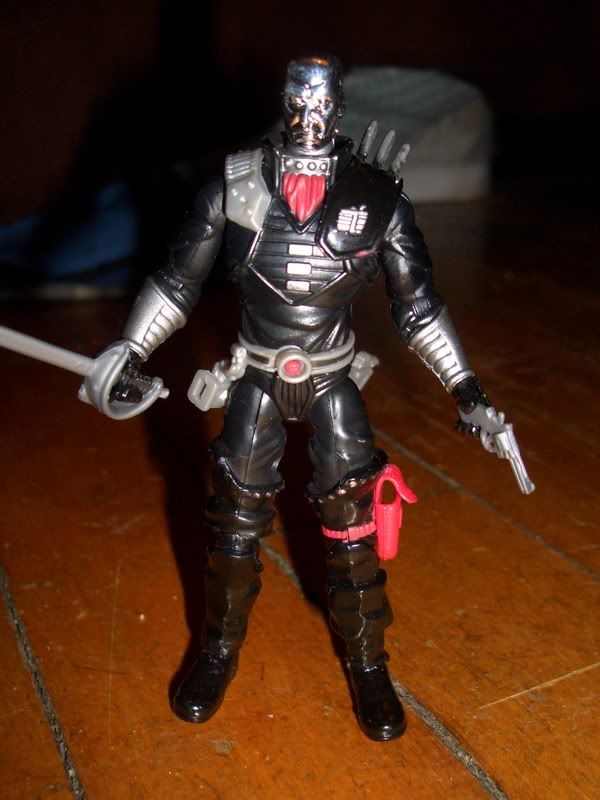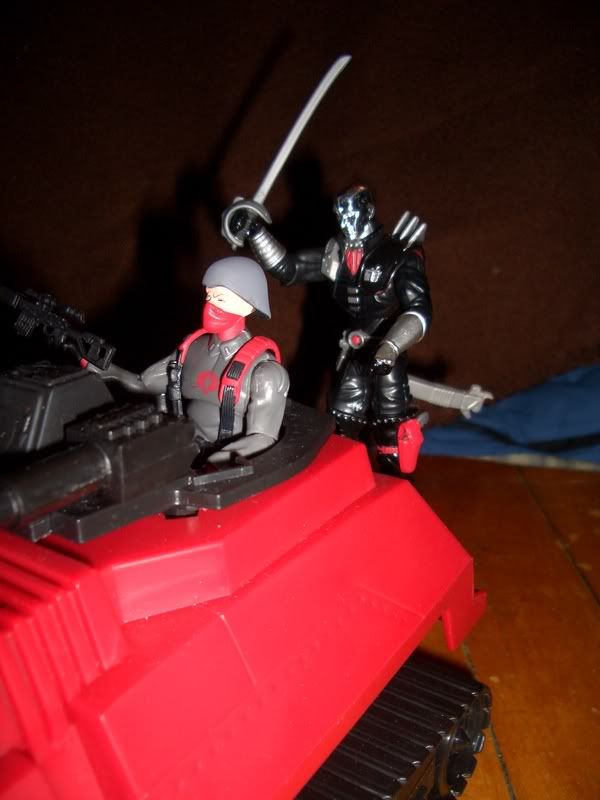 What would a Joe battle be without Cobra Commander? He comes with his wacky world-domination-oriented Cobra Flight Pod, perfect for hovering over your vehicles and facing off against the similarly James Bond-like jet pack.
This HISS Tank is probably one of the greatest toy vehicles ever designed, having a long career being repainted and loved by kids all over. And here it comes with a complete crew right out of the box.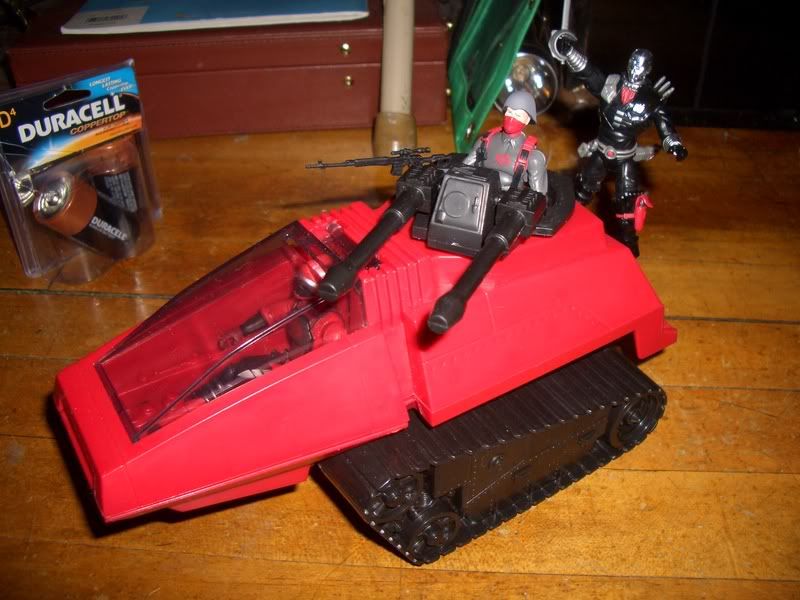 I've saved the best for last. The included MOBAT tank is no ordinary vehicle, it's motorized so you can do stuff like this...
It can even be set to go backwards or left or right, perfect for rolling over whatever obstacle you can assemble from crap lying around.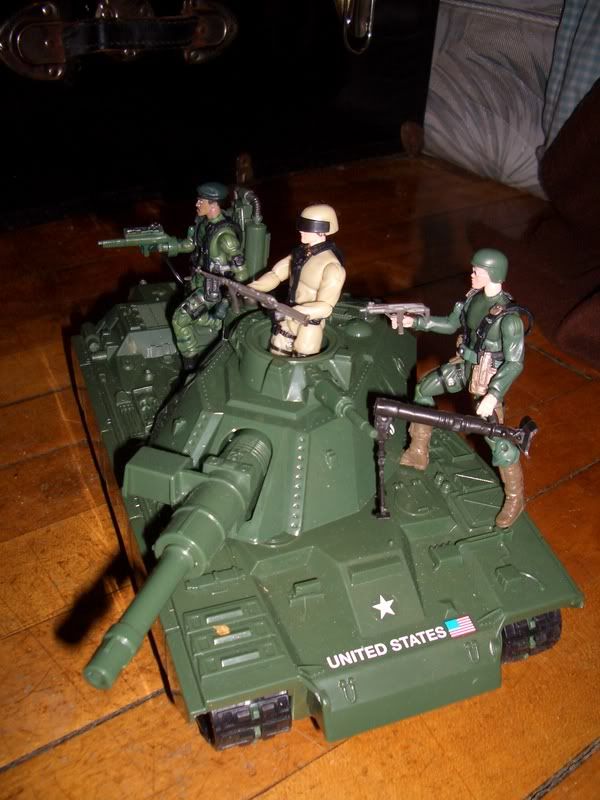 In closing, this truely is THE ULTIMATE BATTLE PACK, even at full price, and finding it on clearance makes it even more ULTIMATE.
Congradulations on an ULTIMATE BATTLE, Joes. You shall be remembered...